Grease-Extraction System Cleaning
Ensure your business is certified fire safe
Halcyon provides the complete cleaning management for all premises with grease-extraction systems. With use these systems become contaminated with grease and dirt deposits which are a fire and health hazard.
Health and Safety standards mandate that grease-extraction systems must be professionally cleaned and certified, at least on an annual basis, reducing risks to your business of dangerous grease and dirt build up.
Our specialised duct-cleaning operatives are trained in using the latest technology to address your hygiene, health and safety obligations. Unique to Halcyon is the fact that we carry Professional Indemnity Insurance which allows us to certify our work as compliant with TR19 regulations.
Essential fire-safety certification
Fire-safety certification is an essential requirement of the Health and Safety Authority and of your insurance provider. It's one of those 'grudge purchases' that many business owners would like to defer, especially when times are tough, however if your certificate is not kept up to date, your insurance company can refuse to cover any claim, whether caused by fire, flood or other accidental damage.
Our service is compliant with TR-19 standards. This is what it involves
We conduct a full assessment of your system
We clean all ductwork, the canopy and motor
We use advanced cleaning methods and equipment
Damaged or obsolete filters are replaced
We deep clean the complete kitchen
We provide you with photographic proof of cleaning standard
Our specialised cleaning operatives are correctly trained and qualified
We provide you with a certificate of performance (Professional Indemnity Insurance)
Duct cleaning can be done at your convenience, day or night, to ensure minimal disruption
We guarantee a top-quality clean
Take the first step towards fire-safety certification and get a free, no-obligation quotation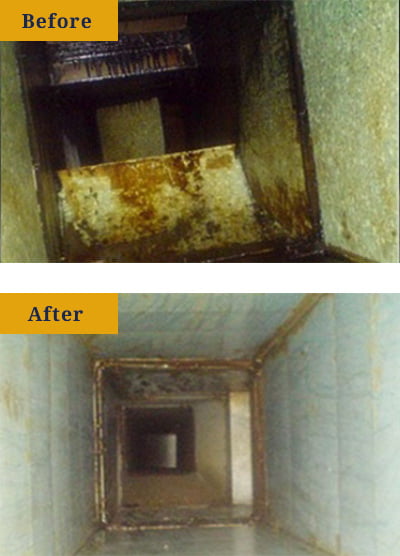 What sets us apart is that we carry Professional Indemnity Insurance which allows us to certify our work and protects our clients from liability.
"I was very happy with the two guys who attended site. Aside from the standard of work which was as good as previous visits, the two guys were a credit to the company. Their attitude and professionalism was exemplary and it was refreshing to see such positivity."
Damien Hurley - Facilities Manager
Axis Group Ireland "I would highly recommend the services of Halcyon Cleaning Ltd. We have been using Halcyon to clean the grease extraction system for the past number of years – in compliance with health & safety and also insurance regulations."
Megan Maguire,
Central Park Nursing Home Unique to Halcyon is that we certify your grease-extraction cleaning to TR19 standards. BESA TR19 is the duct-work cleaning guidelines provided by Building Engineering Services Association for internal cleanliness of ventilation systems. Some important stipulations in the regulations are that the cleaning service provider carries Professional Indemnity Insurance and can provide photographic proof of cleaning standard. For more insights into TR19 and the importance of compliance, download the standards from our Useful Guide section.
"Grosvenor has worked with Halcyon for many years now. During this time each PPM and emergency task assignment has been completed on time and professionally. We use Halcyon for our kitchen extract cleaning, kitchen deep cleaning, Polyflor restoration and air conditioning cleaning requirements with all our clients and could recommend them to any establishment seeking to avail of this service" We ensure your grease-extraction system is certified fire safe
"As part of their commitment to industry compliance, the Health Service Executive has in 2016 commissioned Halcyon to provide the duct cleaning service in many of their hospitals, nursing homes and other sheltered dwelling locations. We find their style of management to be extremely personal and their work ethic excellent."
Health Services Executive (HSE) Get a free, no-obligation quote on our specialist grease extraction system cleaning service.
Why choose Halcyon?
The Halcyon Group has 16 years' experience in cleaning and hygiene services and has national coverage. We use the latest technologies and techniques and employ professionally trained specialist cleaning operatives.